---
Disney's Gargoyles
October 24, 1994 - May 15, 1996
The Goliath Chronicles
September 7, 1996 - February 22, 1997
Resurgam
"And so it ends. Gargoyles chapter two. Or is it three? I've lost count." --Brooklyn
---
"A gargoyle can no more stop defending the castle than breathing the air."
---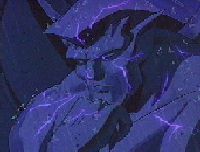 [Show/Fan News] [G:TGC] [Links] [Episode Guide] [Gargoyles Intro] [Gargoyles Quotes]
[The Gargoyles Filkbook] [The Poetry/Top Ten List Archive] [Oddities] [Site News]
[Gathering 1997 Photos] [Gathering 1998 Photos] [Gathering 2003 Journal]
[All I Really Need To Know In Life I Learned From Watching Gargoyles]
Sure, everyone knows a gargoyle is an architectural gothic ornament, cold, unliving stone, a "glorified drainspout."
Well, not exactly....
In Scotland, 994 A.D., the Magus of Castle Wyvern in mistaken anger and grief cast a spell on the gargoyles. Once living defenders of the castle, they slept as stone statues for a thousand years.... until in 1994 A.D. a billionaire named David Xanatos purchased the castle "lock, stock, and gargoyle," moving it to the top of his skyscraper in Manhattan. With the castle above the clouds, the spell was broken.... and New York City will never be the same....
Unsure of who they can trust in this strange new world, the gargoyles befriend Elisa Maza, an NYPD detective. With her help, they commence their struggle to survive.
With dramatic story lines, striking animation, fully developed characters, and an excellent cast (if you're wondering what Marina Sirtis, Jonathan Frakes, Brent Spiner, and Michael Dorn did after Star Trek: The Next Generation ended, this is the place to be), the show has gathered a dedicated following.
Gargoyles first aired in syndication on October 24, 1994, and ran for two seasons, sixty-five episodes. On September 7, 1996 the show made its third season debut as part of ABC's Saturday line up. Retooled for a younger audience and renamed Gargoyles: The Goliath Chronicles, the final thirteen episodes were the subject of intense debate among the show's vocal fan base.
The original Gargoyles series continues to air in syndication on the Toon Disney cable network. If you are new to the series, there is an episode list at The Gargoyles Fans Web Site which lists the episodes in story order, as well as an episode guide here at The Aerie which also lists the original airdates and the writing and production credits.
The gargoyles live.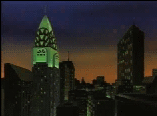 Semper Statuae Alati!
(Help me with my Latin. Roughly translated, I think the above phrase means "Winged Statues Always," or, Gargoyles Forever!)
And thanks, Cernunnos!

Last modified: July 19, 2003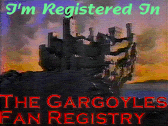 Page Credits
Web space provided by www.artchicks.org.
About the guardian of this web page.

Page originally created September 12, 1996 by Constance Cochran.
Original concept & HTML design © 1996 Constance Cochran.

Under new management as of August 6, 1997.
Additional content & HTML design © 2000 Patrick Toman.

Roosting at this location since June 12, 2000.

Images in The Aerie courtesy of Rat and Palladin.
All Gargoyles images © 1994 Buena Vista/Disney.
---
Disclaimer: Gargoyles is the property of Buena Vista Television/Disney. Gargoyles: The Goliath Chronicles is the property of Buena Vista/Nelvana. This page is in no way associated with Buena Vista Television, The Walt Disney company, Nelvana, or ABC. It was created and is maintained by the show's fans, for non-profit and entertainment purposes only. No copyright infringement is intended. All Gargoyles images copyright by Buena Vista/Disney.
---
This Gargoyles Ring of Power site
is owned by Puck.

Click for the [ Next | Skip It | Next 5 | Prev | Random ]



Want to join the ring? Click here for info.