The Aerie's Links Page
In the beginning, there was the world wide web...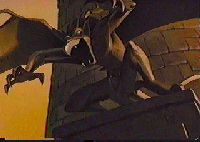 Infinite and nebulous, it was a place where chaos reigned. Those looking for a place to roost wandered through the void, seeking "Gargoyles" episode schedules, tv "capture" images, top ten lists, and a place to put their fan fiction.
Then, one by one, they began to appear. Castle.net, Station 8, rat.org, Palladin...now, there are many. They are everywhere. All dedicated to the winged defenders of the night....
Welcome to The Aerie's Links Page, an annotated and ever growing list of "Gargoyles" web sites.
If you are the keeper of a gargoyles page and would like your page listed here, just send in the URL.
Likewise, if you find a bad or outdated link on this page, please notify me immediately.
Please note - many entries had to be removed in the last update due to out of date links! To get your page listed again, just e-mail me.
Last updated: June 10, 2000
---
The Clan Leaders
These are the "Gargoyles" pages that seem to be at the center of the fan universe, the places you should try first for the latest show gossip, fan fiction, and back story.
Gargoyles Station 8 Excellent page, with episode listings, fan fic archive, the gargoyles comment and chat rooms, and more.
The Gargoyles Fan Website Formerly castle.net, that page you've heard so much about. Leading fan fic archive, reviews, episode listings, show news.
The Avalon Archives The culmination of months of hard work by a dedicated team of our rookery sibs, this new site's goal is to become the most comprehensive archive of "Gargoyles" screen shots, pics, fanart, and everything else "Gargoyles." You can even read the old "Gargoyles" comic books online here.
The Gargoyles Saga "Gargoyles" may not be on the air anymore, but it is alive and well on the net. "The Gargoyles Saga" is the fanfic continuation of everyone's favorite show, picking up from "The Journey," the last episode made under the control of series creator Greg Weisman. And be sure not to miss the spin-offs, either: "Timedancer," "Pendragon," and "Dark Ages."
Rookery Siblings
"Gargoyles" seems to have inspired more creativity than any other show I can think of, not only in fan fiction and fan art, but in web pages.
The Puck's Top Picks
These are my favorite sites, in no particular order.
Raptor Woman's Page Stunning and original gargoyles graphics. Prepare to be seriously impressed!
Aimee "Angela" Major's Studio More stunning and original gargoyles graphics. Info on animation. Prepare to be impressed!
Kanthara's Loft Beautiful gargoyle drawings reside here, as well as drawings of characters in the famed Mini-clan. Prepare to be impressed!
CrzyDemona's Mansion Artwork, a Gathering 1998 photo album, and lots of other cool stuff.
Elisagoyle's E&ampG Page Site dedicated completely to everyone's favorite human/gargoyle couple.
The Dreamer's Workshop Siryn's page. Lots of very cool fanart and other stuff.
The Rockaway Christi Smith Hayden's home page. Fanfic and fanart.
Christine Morgan's Gargoyles Stuff Fanfic and fanart.
Other Wonderful Sites
And this is just a small sample of all that's out there...
MeekosGirl's Gargoyles Page A complete list of Gargoyles merchandise, an episode list (in chronological order!) and gargoyle graphics.
Jeb's Gargoyles Page Has a "Gargoyles Encyclopedia" in progress and a fan fic archive.
Twilight Shadowstar's "Gargoyles" offers a stunning design as well as fan fiction, links, and graphics.
Castle Riverwind Welcome to Castle Riverwind, where the gargoyle way is observed (and there are some great graphics).
Shadow Master's Gargoyles Page An evolving gargoyles page with fan fiction and interesting characters.
LJC's Disney's Gargoyles Page Where to go if you came in late...
Nightman's Gargoyles:The Goliath Chronicles Page Reviews of G:TGC each week, written by the fans. A must-visit.
Brian The Snorf's Gargoyles Page Features a great fan fic collection and the chance to rate your favorite eps.
Nigeria's Gargoyles Page More "Gargoyles" links than any other page on the web.
The Raven's Nest Opening theme in .wav format, image gallery for the characters and places of "Gargoyles."
Black Cliff Castle "The Book of the Gargoyles," "A Compendium of The Third Race." And what does happen when you cross Gargoyles with Star Trek?
Tegrenath's Place "Gargoyles" character guide,links, and an image gallery (coming soon!)
The Gargoyles Rookery Lots of cool stuff, including Gargoyles in RPGs.
Gargoyles Headquarters In-depth character guide, episode list, and IRC information.
Romancer's Gargoyles Page Romancer's Gargoyle polls. Favorite villain, gargoyle, human (you can even pick "That Jogger" if you'd like...)
Mythology and History In Gargoyles Everything you ever wanted to know about time paradoxes, The New Olympians, The Golem, and King Kenneth, but were afraid to ask....
Larry Davison's Gargoyles Page A Gargoyles chronology, and the best organized collection of links, a real help in tracking down the images, fan fic, or information you need.


Other Gargoyles links
alt.fan.disney.gargoyles The show has its own newsgroup. Go there to discuss everything from Demona and MacBeth's life and death bond to the artistic reasoning behind the coloring of the clones.
---
Back to The Aerie.